As digital engineers, it's very rewarding to wield the tech-tools that have the power to alter the course of history, by preserving architectural heritage.
The challenge of saving the iconic Rotorua Bath House and Museum was a project that tugged at our Kiwi heart strings. Especially so when our CEO Dave, is Rotorua born and bred.
It was a sad day for New Zealand, when after the Kaikoura quake in 2016, Rotorua's famous Bath House (which houses the Rotorua museum) was damaged to the point that officials deemed it unsafe. Rotorua Museum; Te Whare Taonga o Te Arawa, is an architectural artefact with a rich 112 year story. Yet it seemed it was the end of an era for the magnificent Elizabethan-style Bath House building (constructed in 1908).
New Zealand's most photographed building (it's official!) was at risk of permanent closure unless engineers and council could figure out a plan to save it.
Detailed seismic assessment was completed which rated the building at only 19% of new building standard. (Buildings below 34% are considered earthquake prone, while those under 67% are considered earthquake risk).
PRESERVING HISTORY TO INFORM THE FUTURE
Pre-quake, asBuilt were originally engaged to produce floor plans for this iconic landmark. Rather than take the traditional route, the Rotorua District Council were brave enough to take a leap of faith in asBuilt's recommendation to not only just produce floor plans, but instead utilise 3D laser scanning to capture the full asset in 3D. This would produce a rich data set not only useful for production of accurate floor plans… but much much more.
This paid huge dividends post the Kaikoura earthquake. asBuilt were then further engaged to undertake structural analysis of cracking and potential structural movement. This was part of Council's due process of research, destructive testing and analysis to determine the condition of the building, in detail, and the damage sustained during the earthquake.
We used 3D HD Scanning technology to assess and to assist the analysis of the structural integrity of the museum. Through asBuilt's point cloud data capture and creation process, we created a highly detailed digital BIM Model of the bath house/museum – fly through it here on this blog.
This data set was integral to understanding the structure and its many additions, nooks and crannies. An historical building is a complex system of spaces, volumes, materials, surfaces, constructive aspects, actual and past functions and configurations, degradation, etc.
THE DEVIL IS IN THE DIGITAL-DETAIL
This 3D asset then formed the basis for the integration and structural modelling. Once the initial structural understanding was completed, again the 3D point cloud came into play. GDC Consultants had the job of firstly coming to grips with and understanding this iconic landmark with its many intricacies and complexities. This exact digital replica provided the starting point for the whole design team who were able to make better informed decisions and plan their methodology to save the building based on 3D data certainty.
THE FUTURE OF ROTORUA MUSEUM
Thanks in no small part to the powers of digitisation and a clever team of architects and engineers, in mid-2020, resource consent was granted for the strengthening and restoration process, and construction is about to commence. We look forward to seeing this iconic site reopen restored to it's former glory (albeit stronger), in the not-too-distant future.
SIDEBAR FOR HISTORY BUFFS: THE BATH HOUSE STORY
Images courtesy of Rotorua Museum
A Famous Bath House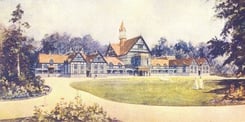 The Bath House, which today houses Rotorua Museum, was once a famous spa which offered therapeutic treatments to visitors from all over the world.
Water from nearby thermal springs was piped to private bathrooms and larger Aix-douche massage rooms. There were also a number of deep pools where chronic disorders were treated. The north wing accommodated male patients, while women were treated in the south wing.
A Generous Gift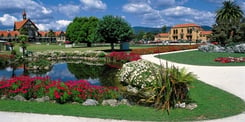 The people of Rotorua are indebted to Ngāti Whakaue for the gift of land on which the Bath House now stands.
On 22 November 1880, Judge FD Fenton met with 47 Māori leaders to discuss a proposal supporting the creation of a township. Contained within the agreement was a clause setting aside thermal springs "Hei oranga mō ngā iwi katoa o te Ao" – for the benefit of the people of the world.
A Significant Icon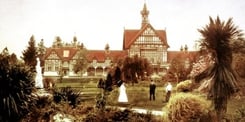 The magnificent Elizabethan-style Bath House building is a monument to the New Zealand Government's first major investment in the tourism industry.
With its half-timbered construction, gables, towers, grand staircase, and luxurious treatment facilities the Government hoped to tempt wealthy northern hemisphere patrons to travel far from home to the 'Great South Seas Spa'.